Bitcoin returns to $ 30,000



The cryptocurrency market is bouncing back, but how sustainable is it?

May 13, 2022, 7:21 pm
After the collapse of the last few days, Bitcoin has again crossed the $ 30,000 mark. Other digital titles are also recovering. However, the cryptocurrency market crisis doesn't seem to be over yet. Analyst Emden suspects that bargain hunters are behind the current uptrend.
The situation on the cryptocurrency market has stabilized after the considerable turmoil of the last few days. Bitcoin, the oldest and largest digital currency on the market, cost around 30,300 US dollars (around 28,800 euros) on the Bitfinex trading platform. On Thursday, the price had fallen to $ 26,600, the lowest level since late 2020. Trading in other digital values ​​such as the second largest internet currency, Ether, also calmed down ahead of the weekend.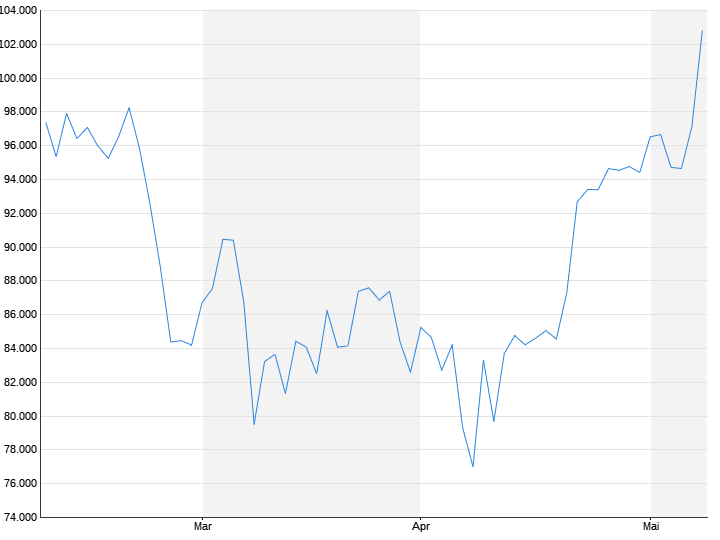 Market analyst Timo Emden, who specializes in cryptocurrencies, still does not believe in lasting calm in the cryptocurrency market, as he explains to ntv.de. "It doesn't seem like a safe countermovement." Rather, according to him, the bargain hunters have struck. "But these are not convinced market participants, there is no lasting interest in buying". Therefore, the upward trend could quickly reverse again. According to the analyst, the price gains could be sold off again over the weekend.
"Because the problems are still there," Emden points out. According to market watchers, the reason for the bad mood in the cryptocurrency market is, on the one hand, the prospect of a rise in key interest rates, which is currently generally depressing the mood in the financial markets. There are also huge problems with the TerraUSD cryptocurrency, also known as UST. This so-called stable currency should actually be characterized by high value stability. After the price of TerraUSD plummeted for reasons that have not yet been clarified, the entire cryptocurrency market has also come under severe pressure.
Even Tether, the largest stable currency by market value, was not briefly unable to maintain its peg to the US dollar. Tether is the third largest digital currency after Bitcoin and Ether, with a market value of around $ 80 billion. Analyst Emden now expects new regulations, especially for stable coins.