32 percent protection



ThyssenKrupp with a 22% probability.

23/04/2022 6:24
After the price collapse in March 2022, ThyssenKrupp stock was able to stabilize again in the past few weeks. With caped bonus certificates, investors can achieve high returns in the coming months even if the stock comes back under pressure.
Shares of the troubled ThyssenKrupp group have risen significantly in recent days from the 12-month low of € 6.67 on April 6, 2022. However, with a 14% price drop caused by the negative consequences of the war in Ukraine in the past month, it is one of the weakest stocks in MDax.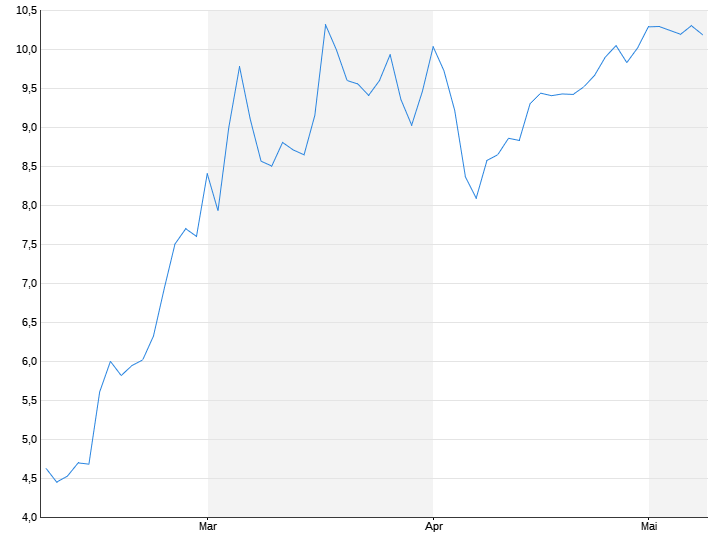 In new analysis, experts with price targets up to EUR 17 (Deutsche Bank) reiterated their ThyssenKrupp stock purchase recommendations due to the steel and technology company's restructuring, which was not reflected in the share price.
The investment idea
For investors who are considering an investment in ThyssenKrupp shares, which are considered slightly undervalued, at a reduced price level and at the same time would like to significantly reduce the undoubtedly existing price risk of direct equity investments, an investment in good bonuses with a cap could be interesting.
Aside from paying dividends, private investors can achieve positive returns by buying a stock directly only if the price rises. Compared to direct share purchases, cap and capless bonus certificates offer investors opportunities for high returns not only when the share price rises, but also when the price stagnates or falls.
The way it works
If the ThyssenKrupp stock never reaches or falls below the EUR 5 barrier by the certificate valuation date, the bonus certificate will be redeemed on December 23, 2022 at the bonus level of EUR 11.00.
The key data
The HSBC bonus certificate with cap (ISIN: DE000TT8NA26) on ThyssenKrupp shares has a bonus level and a cap of EUR 11.00. The cap defines the maximum refund amount of the certificate. The barrier activated up to the valuation date, 16 December 2022, is Euro 5.00. At the ThyssenKrupp share price of EUR 7.32, investors could purchase the certificate for EUR 9.00.
The possibility
As the certificate is currently priced at EUR 9.00, it allows for a gross return of 22.22% in eight months if the share price never falls by 31.69% to EUR 5 or less by the valuation date.
The risks
If the ThyssenKrupp stock reaches the EUR 5.00 barrier by the valuation date and the stock trades below the cap on the valuation date, the certificate will be redeemed at the ThyssenKrupp stock's closing price determined on 16 December 2022. If this is below 9.00, the investment in the certificate will cause a loss.
This article does not constitute a recommendation to buy or sell ThyssenKrupp shares or ThyssenKrupp share-based investment products. No liability is assumed for the accuracy of the data.